A modern recliner that offers a rounded headrest and plush padded seat to support your entire body.
from
$2,579
$3,499
27% OFF
SHIPS FREE (5-7 weeks)
Product Description
The Octane Seating Impulse is new, its different, it is up-to-date! The Octane Seating Impulse is not simply one of those ordinary recliners you see on the market. On the contrary, it is manufactured to be extraordinary; it is designed to be uniquely different and undeniably contemporary. Most recliners come with a square back headrest that forces your neck to be unnaturally upright and can be somewhat a hassle if you are required to sit for long periods.

The Octane Seating Impulse however, was designed to counter this kind of discomfort because it comes with a rounded headrest that suits the contours of the body and ensures that your head is comfortably supported. Usually recliners of this kind provide upper body and lumbar support but they often ignore the need for effective head alignment. The Octane Seating Impulse however supports the entire length and breadth of your body. Amazingly, the final touch is in your hands since you have the option of choosing your own color, the upholstery that suits you and any upgrade of your choice.

The Octane Seating Impulse also comes with a motorized recline, blue LED lighting, detachable tray tables, arm storage and a whole range of technologically advanced features. This recliner is sturdy, durable and comfy and is proudly made by manufactures from the United States of America. It features dried hardwoods and strong and easy to clean leather that comes from first class tanneries worldwide. It is a must have home room theatre recliner with a difference. Purchase today and you will recline in such comfort, you will be happy you did!
Product Downloads
Specifications
| | |
| --- | --- |
| Manufacturer | Octane Seating Custom |
| Upholstery | Top Grain Leather, Bonded Leather, Microfiber & Fabrics, Customer Own Material (COM) |
| Mechanism | Power Recline, Manual Recline |
| Seat Type | Standard Seat Pitch |
| Accessories (Optional) | Tray Tables, Phone Holder, Wine Glass Holder, Popcorn & Snack Bowl, iPad & Tablet Holder, Flex Reading Light, Cigar & Cigarette Holder, Removable Arms, Head & Neck Pillow, Lumbar Pillow |
| Features | No |
| Color | Black, Brown, Red, White, Blue, Grey, All Other Colors |
| Seats Per Row | Unlimited |
| Market | Residential, Commercial |
| Available Layouts | Straight and Curved Available |
| Footrest | Standard or Chaise Style Footrest |
| Cup Holders | No Cup Holders, Blue LED Lighted Cup Holders, Metal Cup Holders in Several Color Choices |
| Storage Compartments | Optional |
| LED Lighted Baserail | Optional |
| Accessory Dock | Optional |
| Motorized Headrest | No |
| Construction | Kiln Dried Hardwoods, Metal |
| Foam | 1.8 High Density Foam |
| Seat Core | Individual pocketed coils in seating core for the ultimate in seating comfort |
| Springs | Sinuous Springs |
| Assembly | Each Seat Ships Separately & Fully Assembled; Must Connect Seats to Each Other |
| Warranty | 5 yrs on frame, springs & recline mechanism, 2 yrs on padding & foam, 1 yr on leather & electrical parts |
| Assembly Time | Approximately 30 to 60 Minutes |
| Wall Clearance | 4 to 6 Inches |
Warning
: California's Proposition 65
Upholstery & Colors
Octane Seating allows you to upholster their custom portfolio of theater seats in a beautiful selection of hand picked premium Italian, South American, and European top grain leathers, microfibers, fabrics, customer own material (COM), or customer own leather (COL). Many colors, textures, and tones are available. All of the leathers are exclusively top and full-grain leathers from bovine cows. The average thickness of the leathers is 0.9 to 1.1 mm, however, Octane Seating also stocks leathers up to 1.4 mm thickness. All of the leathers are aniline dyed, and some of the available finishes include hand-wiped, waxed finished, shrunken grain (giving a pebbled effect), distressed and stamped.
Free Swatches
Want to see, touch and feel the upholstery in person? We will gladly send you swatches free of charge.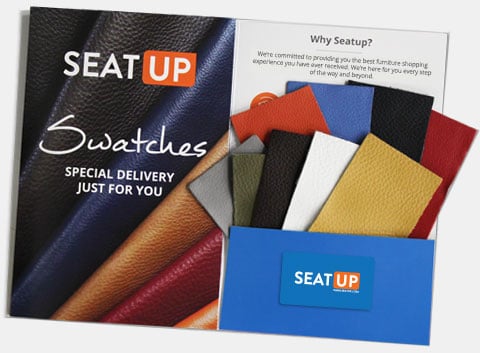 Dimensions & Layouts
All measurements shown are in inches and are Width x Depth x Height. Want a printable version? Click here.
This model is completely customizable and can be modified for different measurements. We will gladly create technical drawings upon request to ensure we meet your specifications and needs.
2 Arm
40 X 41 X 43
Right Arm
32 X 41 X 43
Left Arm
32 X 41 X 43
Armless
24 X 41 X 43
Left Arm + Right Wedge
44 X 41 X 43
Right Wedge
36 X 41 X 43
2 Straight
72 X 41 X 43
3 Straight
104 X 41 X 43
4 Straight
136 X 41 X 43
4 Straight w/ Loveseat
128 X 41 X 43
5 Straight
168 X 41 X 43
6 Straight
200 X 41 X 43
2 Curved
76 X 43 X 43
3 Curved
112 X 45 X 43
4 Curved
148 X 47 X 43
4 Curved w/ Loveseat
136 X 47 X 43
5 Curved
184 X 49 X 43
6 Curved
220 X 51 X 43
Accessories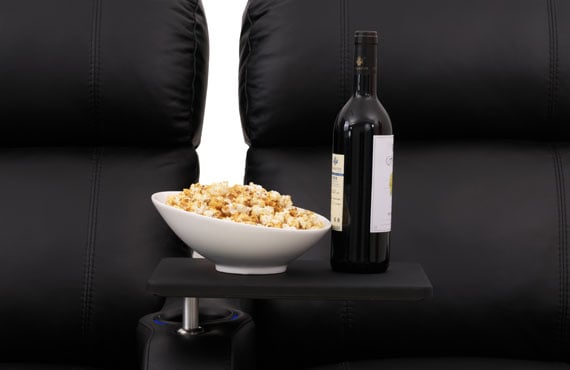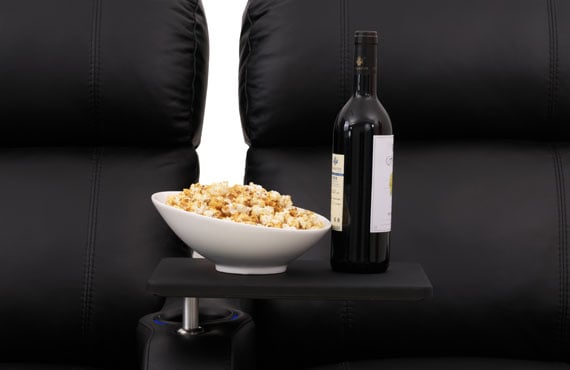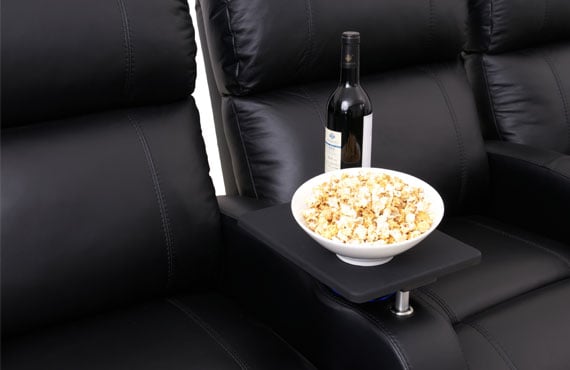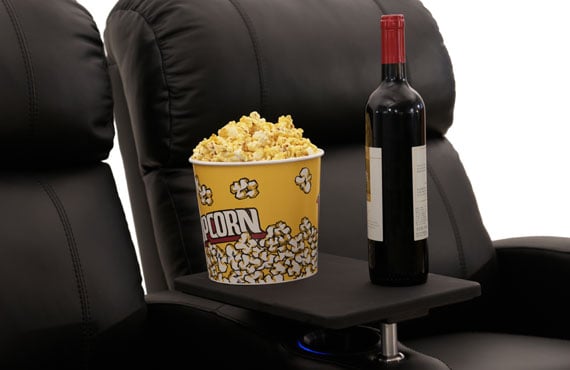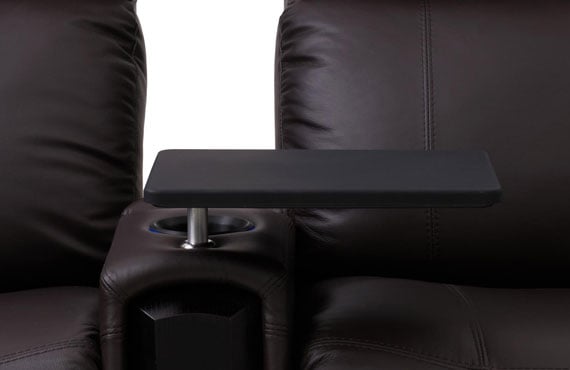 Black Swivel Table
Designed with a matte black surface and constructed with a solid 100% aluminum post, this table allows you to enjoy a true cinematic experience in the comfort of your own home. It is large enough to hold small or large items, from a bowl of popcorn to a full course meal. The table swivels 360 degrees, enabling you to swivel it closer or further away from you while watching movies.
Featuring our exclusive "grip technology" that minimizes items from sliding. It is scratch and fingerprint resistant, designed for long lasting every day use. The table is removable and easy to clean with a damp cloth. The post is made of premium aluminum, exemplifying Octane's quality and craftsmanship.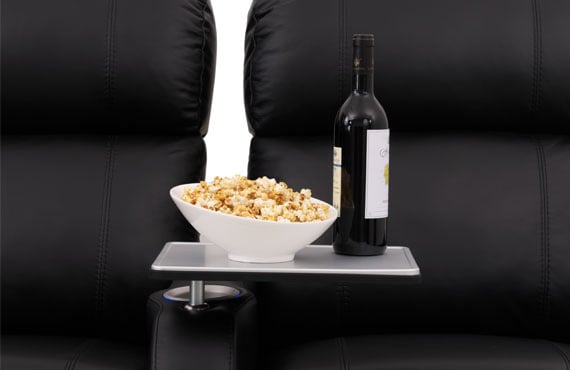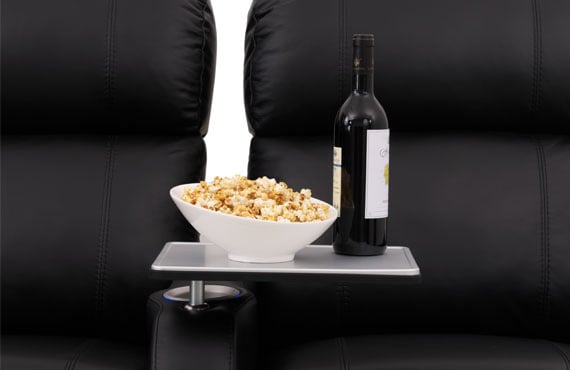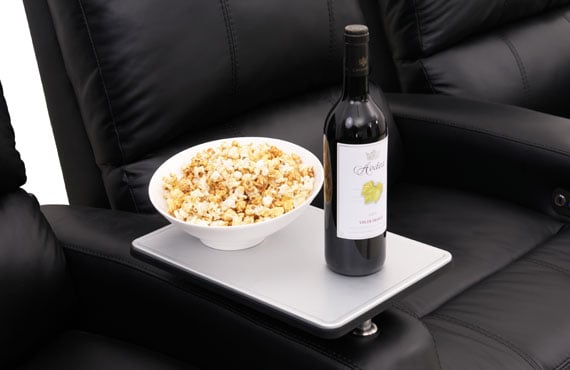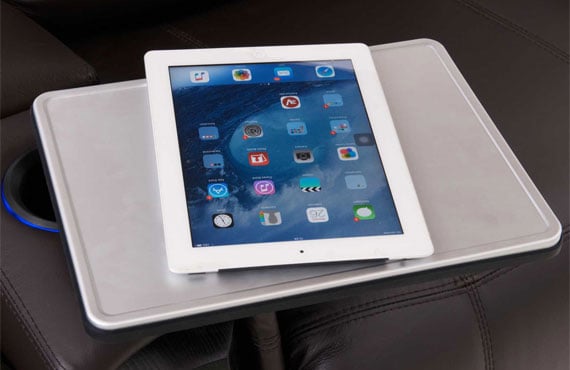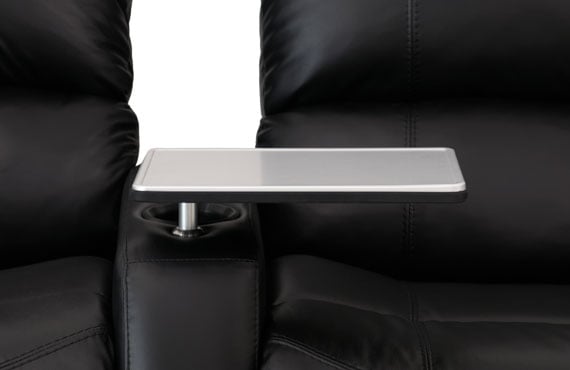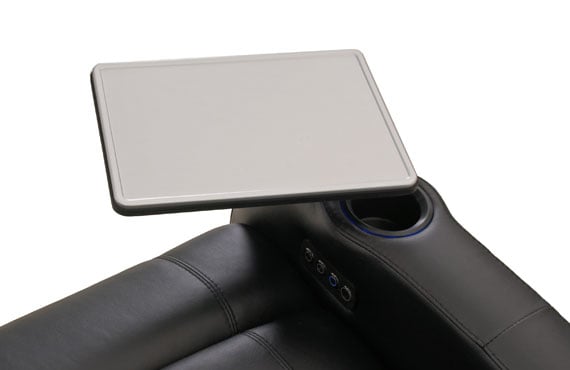 Aluminum Swivel Table
Sophistication and style are magically combined with this premium swivel table featuring a 100% brushed aluminum top. Measuring 9.75 x 13.75 inches, it is large enough to hold snacks to a full course meal. The aluminum is scratch resistant, and easy to clean. Your home theater seats will be the envy of all.
The table is equipped with an aluminum post that simply slides into the accessory dock located in front of the cup holders. It swivels a full 360 degrees and is easily removable when not in use. The table top has a beveled rim to prevent any slipping and will showcase your snacks with flair.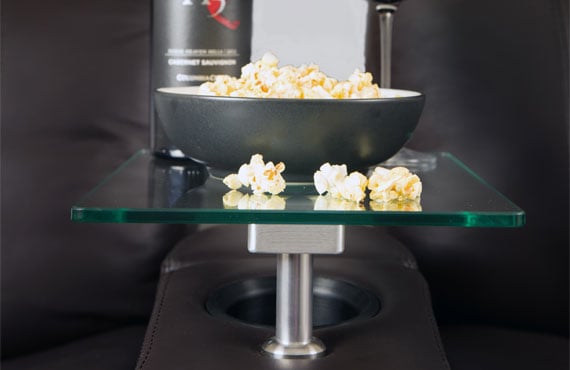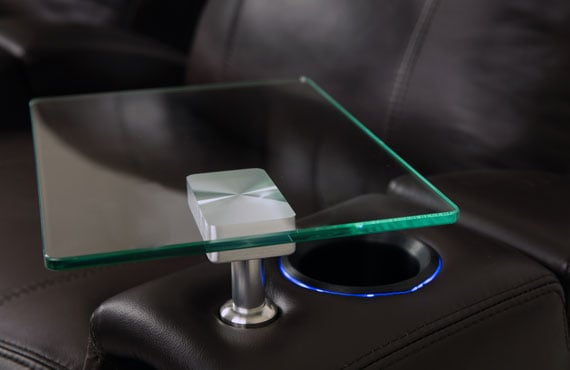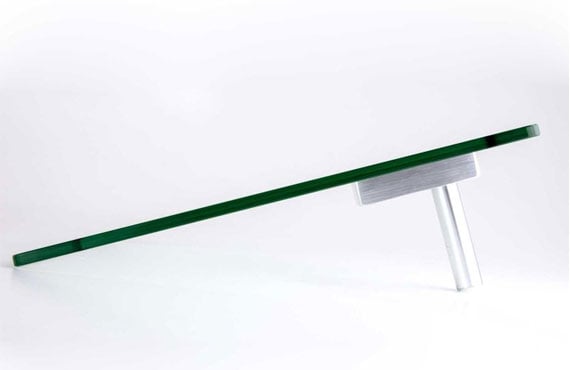 Glass Swivel Table
This luxurious premium glass swivel table is a platinum level addition to any home theater. The tempered glass is 0.375 inches thick and large enough to hold snacks to a full course meal. The table features a smooth beveled edge, accented by a brushed aluminum rectangular base . A perfect pairing of contemporary sophistication.
A beautiful polished finish provides a tasteful way to enjoy your movies in style. The table simply fits into the accessory dock located in front of the cup holders.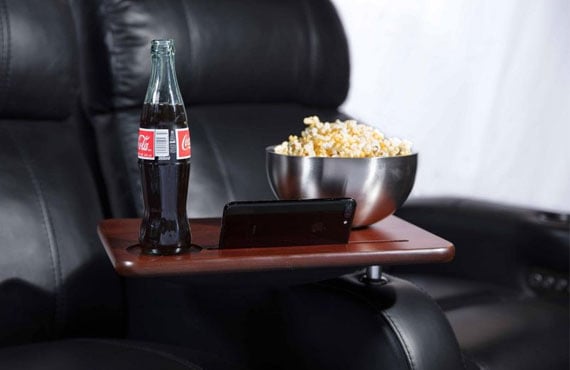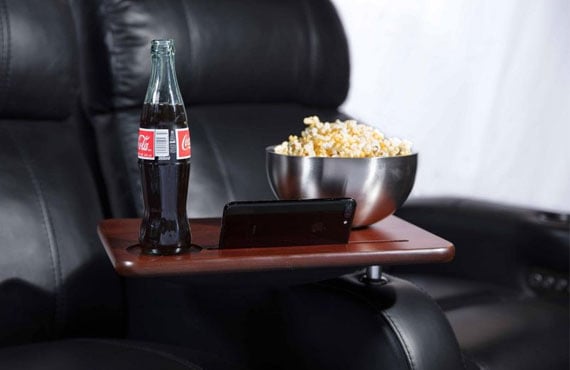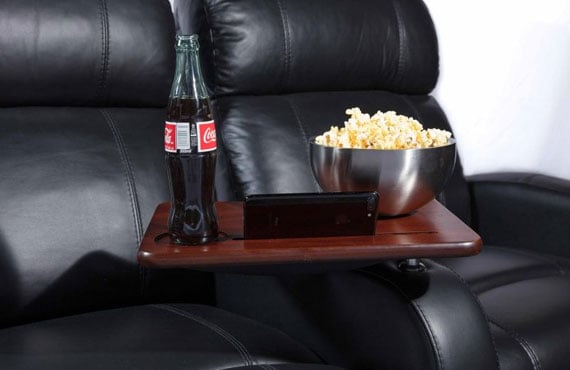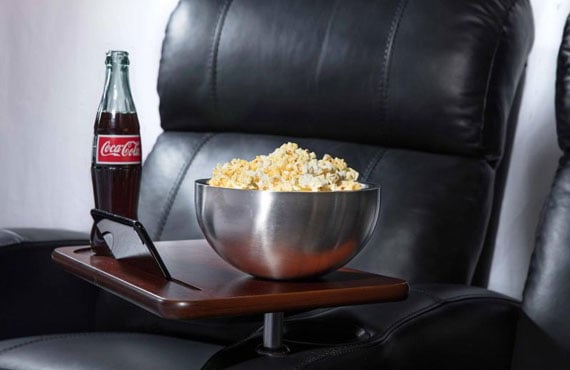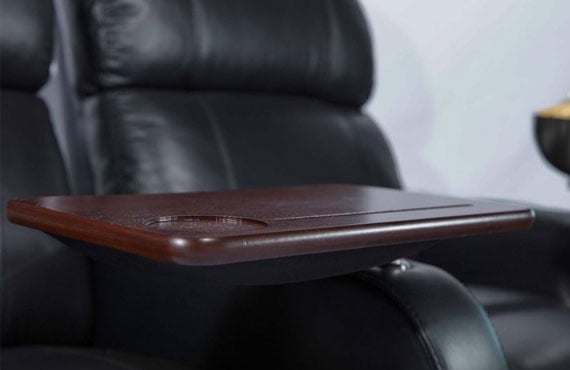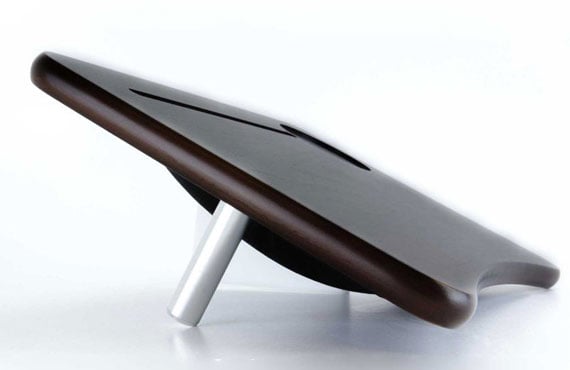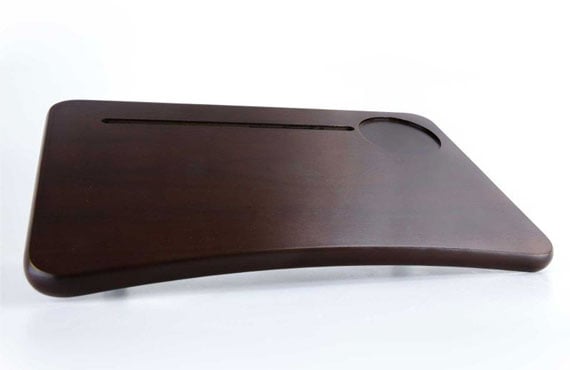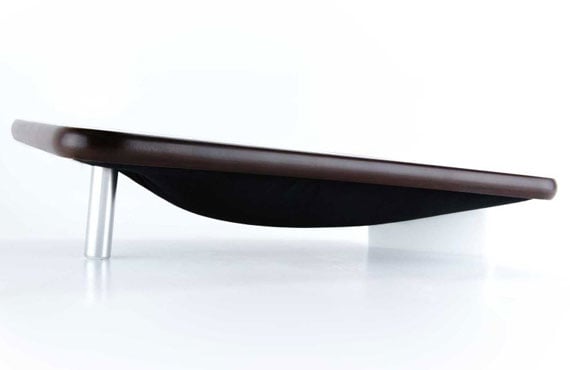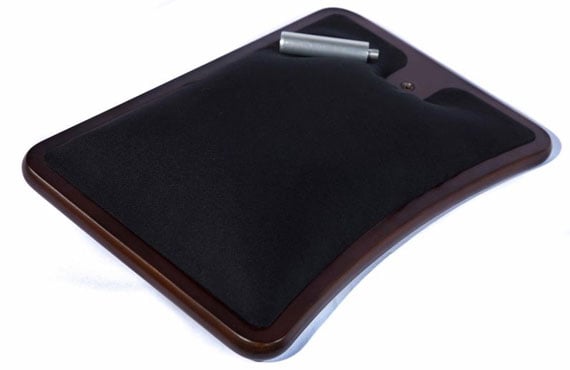 Walnut Wood Swivel & Lap Table
Enjoy this solid walnut wood kidney shape swivel table that features a cup holder groove to hold your beverages in place. The table also has a slim slotted groove, perfect for cell phones and light reading materials.
The bottom of the table has a bean bag pouch so that you can use it on your lap or use the metal post which slides into the Accessory Dock located in front of the cup holders. The table swivels 360 degrees and is easy to remove and clean.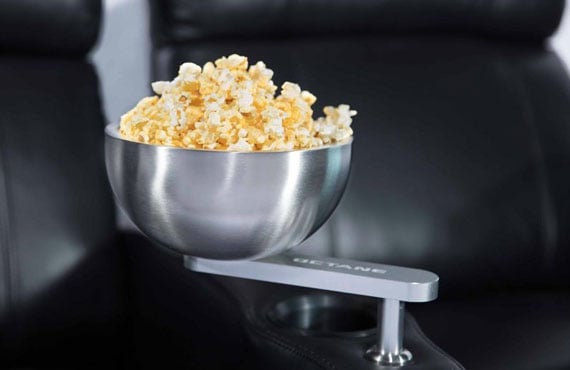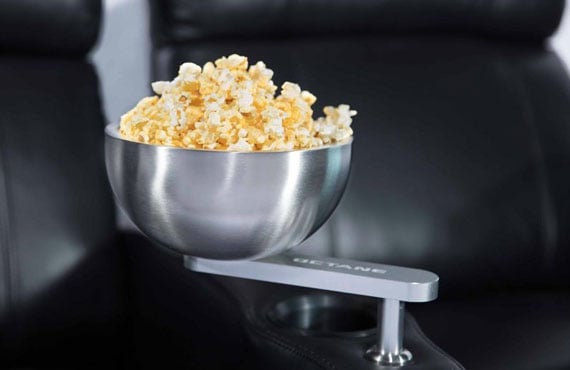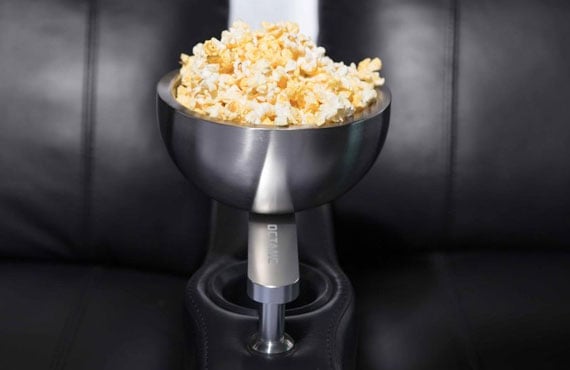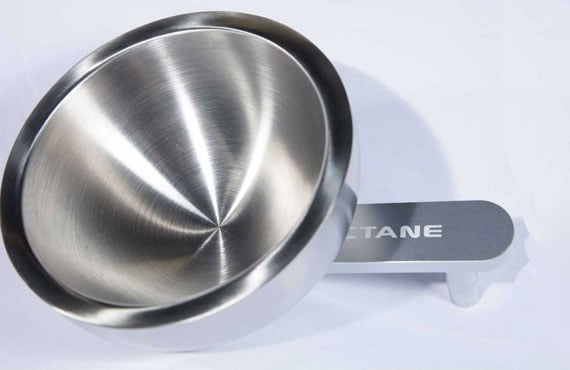 Popcorn & Snack Bowl
Our exclusive Octane Seating Popcorn & Snack Bowl is a must have to truly enjoy your movies in complete style. The bowl is generously sized with a 7.75 inch diameter, which is plenty of space for loads of popcorn, or your favorite snack. It features a double walled stainless steel construction, which means hot food stays hot, and cold items stay cool.
The bowl attaches to an aluminum extension arm that fits perfectly into the Octane accessory dock. This enables you to position the bowl away from the cup holder, so you can enjoy your favorite drink at the same time. It swivels a full 360 degrees, providing the perfect resting spot for your snacks, without getting in the way.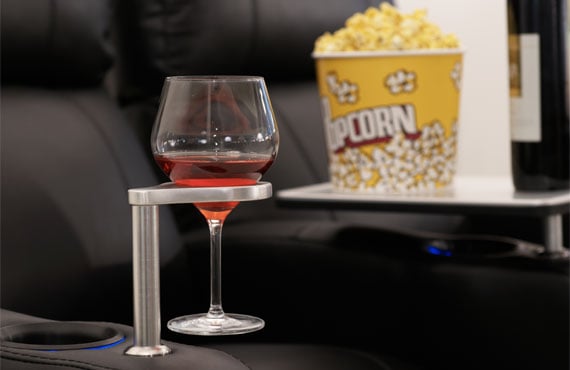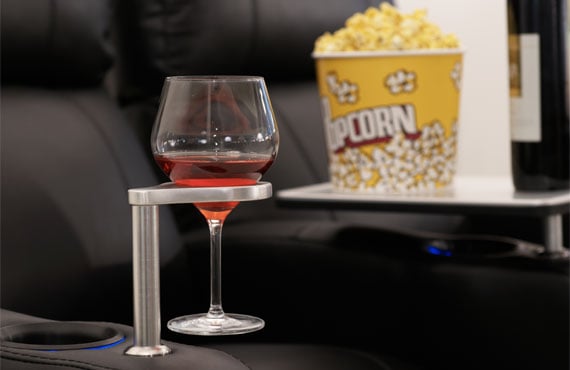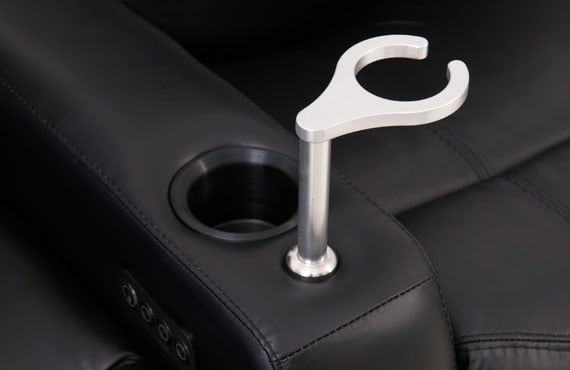 Wine Glass Holder
This wine glass holder will elevate your theater or media room to VIP status. Enjoy your favorite Cabernet, Pinot Noir, Pinot Grigio, or Chardonnay while viewing your movies. Constructed of solid 100% aluminum with a smooth and elegant finish. The handle offers a gentle curved design that fits most wine glasses securely and safely.
The mouth of the holder was designed at an optimal size to fit both small and large glasses, even those used by a sommelier pouring into a full sized Cabernet glass. Your guests will surely be impressed by this beautiful accessory and its sleek modern design. Cheers!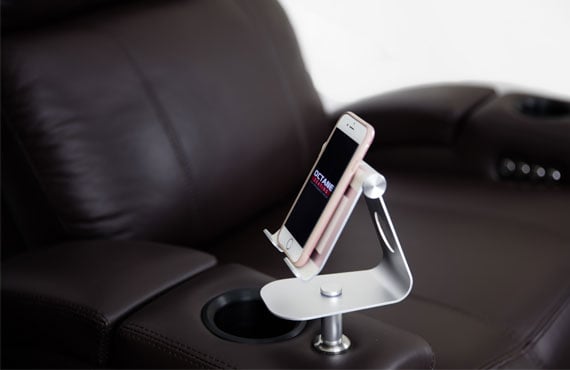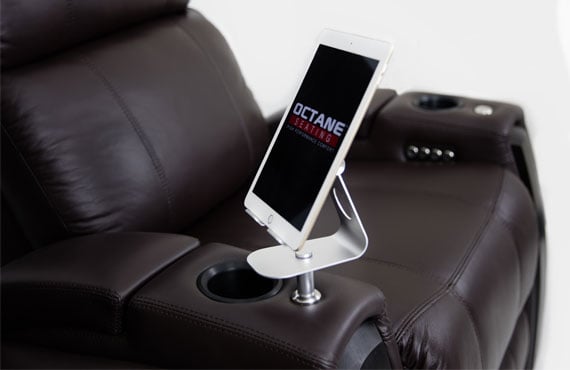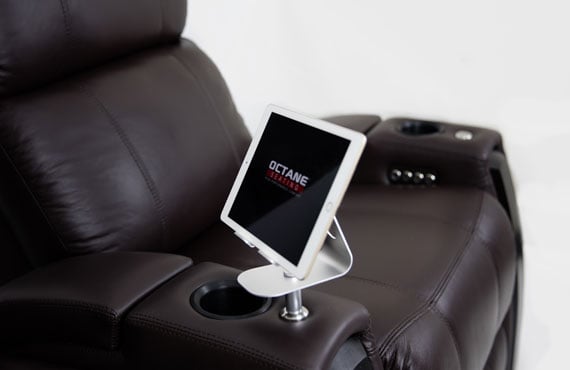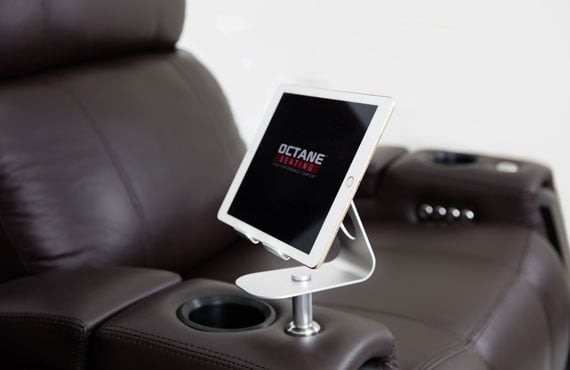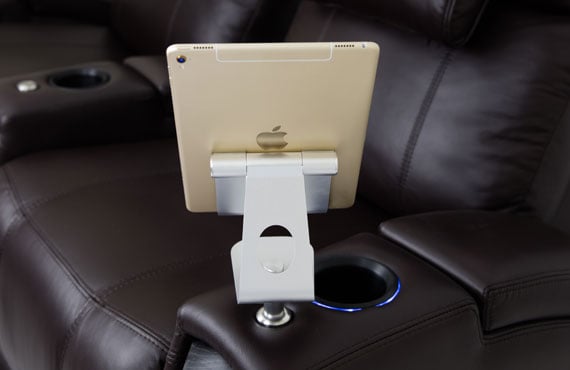 Phone & Tablet Holder
Designed specifically for cell phones and tablets, it is constructed of solid aluminum with a sleek and chic design. It's equipped with a 360 degree angle adjustable hinge for unlimited viewing positions. The holder moves freely and silently, rotates vertically or horizontally and can be flipped over to the other side, allowing you to share it with others.
This holder will safeguard your items from scratches and scuffs. It rotates a full 360 degrees and easily slides into the Accessory Dock located in front of the cup holders. Tested with the highest industrial standard, 85% torque remains after 20,000 times full range operation.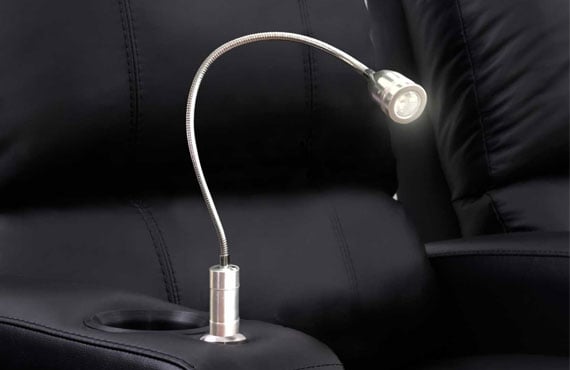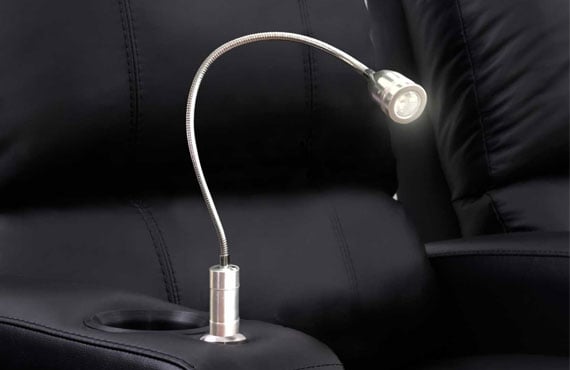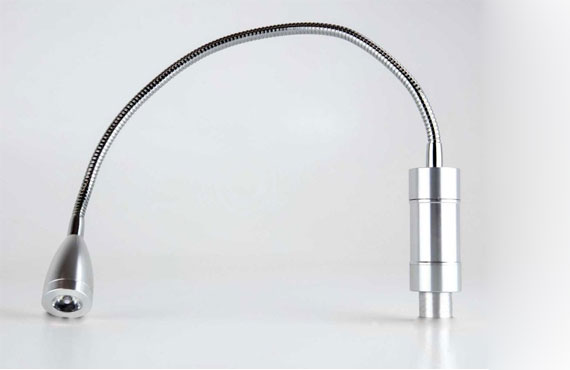 LED Flex Light
This LED Flex Light allows you to locate and view your remote controls with ease. Additionally, sit back and relax reading your favorite book or novel, all in the comfort of the best seat in the house. The light uses a stainless steel flexible goose neck arm that holds its positioning. Simply turn it on via its touch sensor button located at the base of the light, and it will instantly light up with its low voltage LED lights.
The light was specifically designed to illuminate directly at its destination without it disrupting your screen or television. The light offers high brightness and low energy consumption. Requires 3 AAA batteries (not included).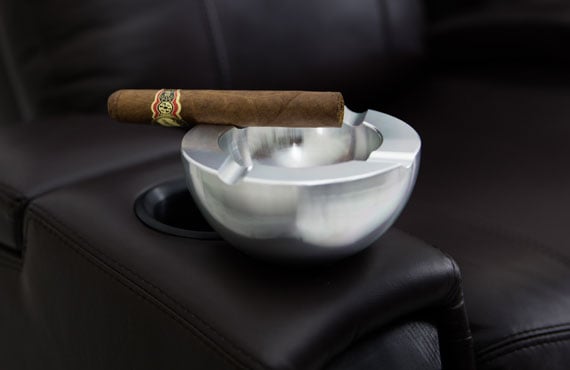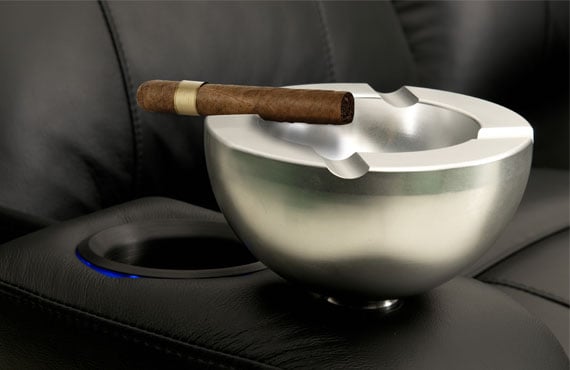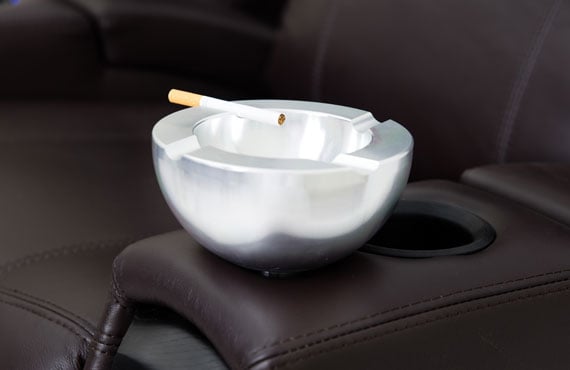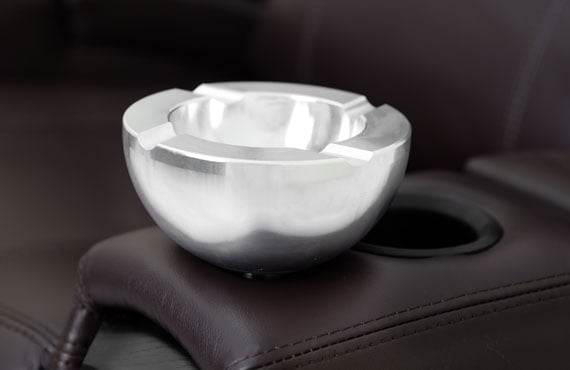 Cigar & Cigarette Holder
Enjoy your favorite cigar while sitting in the best seat in the house. This premium basin is made of solid 100% aluminum with a brushed billet finish, weighing just under 4 pounds. The top is adorned with 4 separate positions to hold all sizes of cigars and cigarettes.
The holder simply fits into the accessory dock situated in front of the cup holders. On the bottom of the holder is a post that securely slides in the dock. Once in position it can swivel a full 360 degrees and rests in its position for a snug fit. Easily removable to clean and maintain.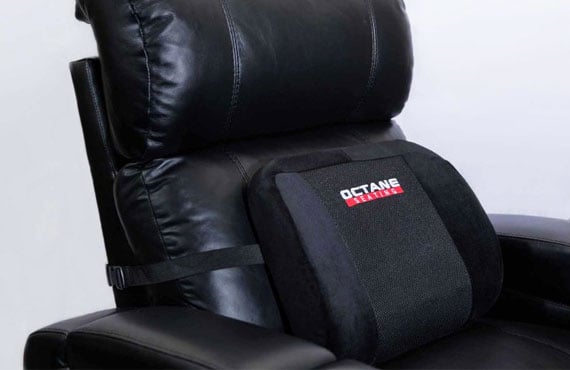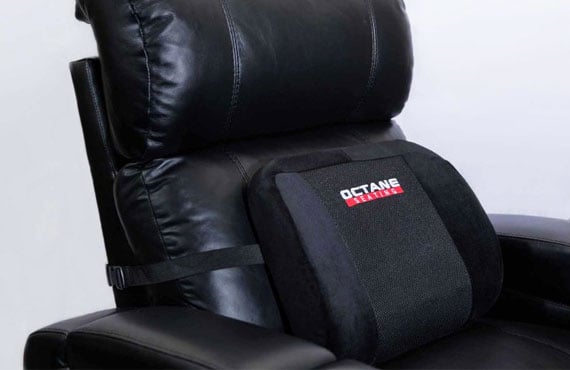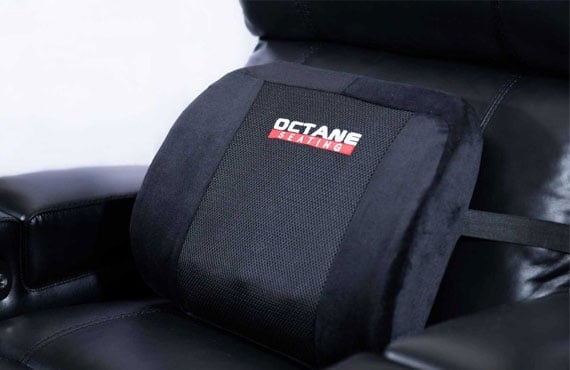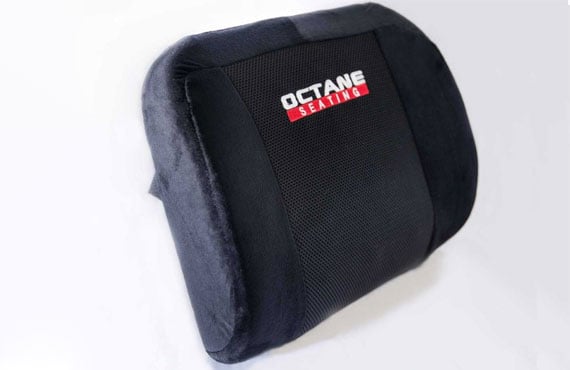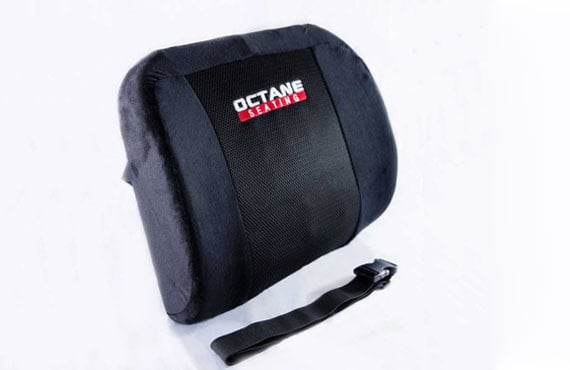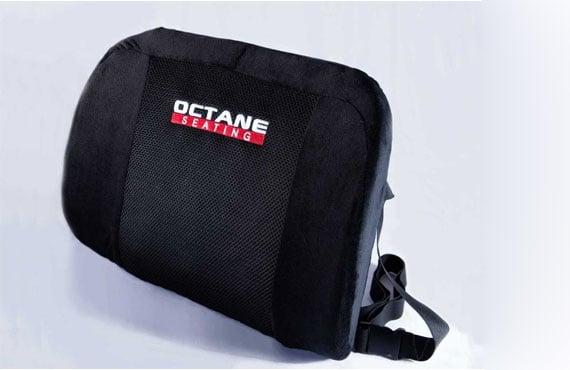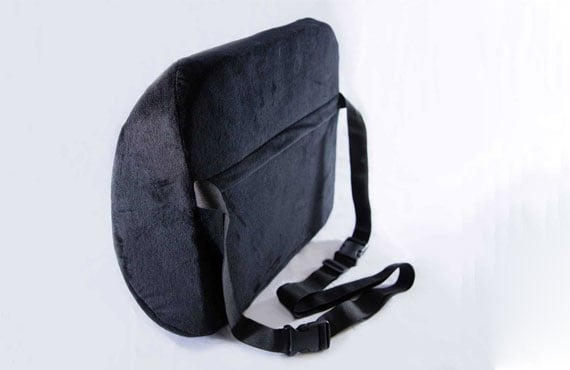 Lumbar Pillow
Our unique orthopedic lumbar support cushion features premium memory foam infused with bamboo charcoal. This helps ensure your back cushion stays fresh and odorless, and also helps control humidity and is thermo-regulating. Additionally, you can stay nice and cool with our unique ventilated foam which has been drilled to help make it breathable.
The cover consists of 3D breathable mesh that is machine washable and allows for maximum airflow. You can now sit for hours on end, providing optimal lower back support and comfort. The pillow comes with a secondary over-sized strap that enables you to attach the strap around the seat-back of almost any chair.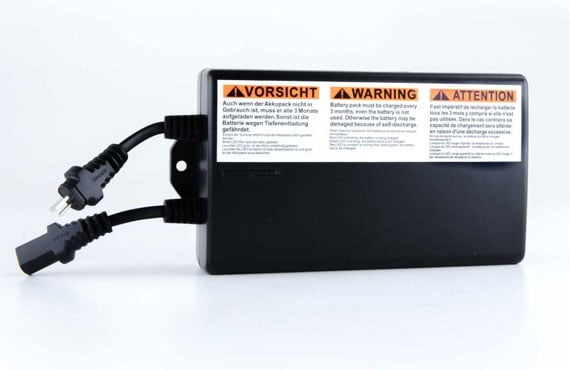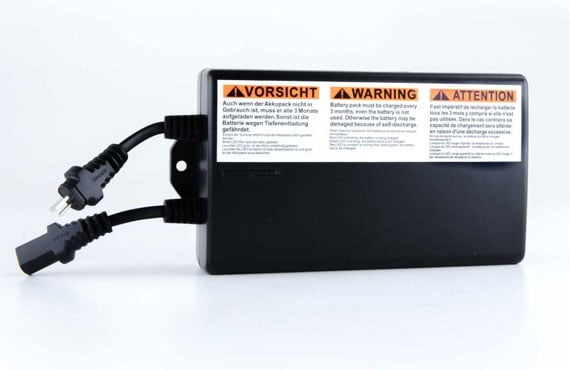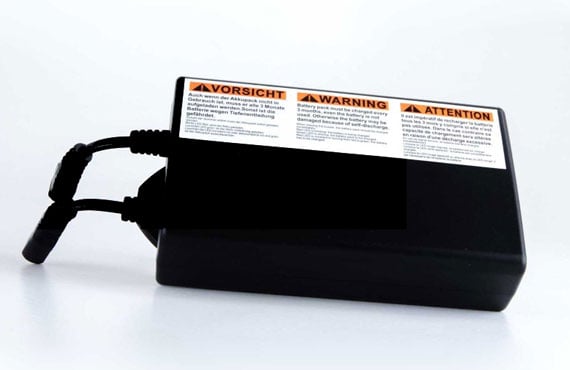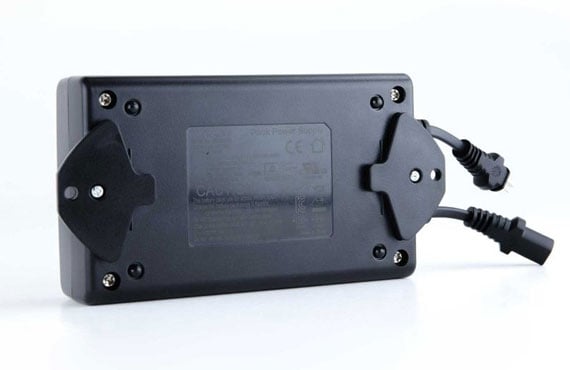 Wireless Battery Pack
Specifically designed for motion furniture, this lithium-ion battery power supply enables you to operate your power recline theater seats without the need to plug them into a wall or other outlet. Simply charge the battery supply, then enjoy up to 150 up and down reclining cycles.
Please note that we DO NOT recommend using this battery if the model of your theater seats has LED lighting. These lights will quickly drain the battery and it will not perform adequately or as described.
Customer Reviews
Theater Seating
Seating by Brand
Theater Decor & Accessories