A contemporary masterpiece that features a vast selection of colors along with modern space saving armrests.
from
$1,045
$1,399
26% OFF
SHIPS FREE (5-7 weeks)
Product Description
The Palliser Sierra II 48218 is part of the Palliser My Comfort Series. This style is very modern and exciting for those wanting to bring something more contemporary into an entertainment room that is luxuriously comfortable to relax in. It amazes us how hard it can be to marry these two qualities together, modern looks and comfort, but Palliser has succeeded again here with the Sierra. From the subtle exterior arch in the seat back to the chaise styled foot rest, you will find yourself admiring this seat when you first see it. The lines and proportions are perfect!

The Sierra seating is fully custom furniture. This means all the upholstery options that Palliser offers can be used on this model. That includes the finest top-grain leathers, fabrics, microfibers and bonded leathers. There is inside of these covers a vast range of colors. We encourage you to narrow down your selection to a few swatches that you like, and we will mail out physical samples to your home free of charge.
Product Downloads
Specifications
| | |
| --- | --- |
| Manufacturer | Palliser Furniture |
| Accessories (Optional) | Tray Tables, Wine Glass Holder, iPad & Tablet Holder, Flex Reading Light |
| Features | LED Lights, Accessory Dock, Arm Storage, Lumbar Support |
| Seat Type | Standard Seat Pitch |
| Arm Style | Track Arm |
| Mechanism | Power Recline, Manual Recline |
| Color | Black, Brown, Red, White, Blue, Grey, All Other Colors |
| Available Layouts | Straight and Curved Available |
| Footrest | Chaise Style Footrest |
| Cup Holders | Blue LED Lighted Cup Holders, Metal Cup Holders in Several Color Choices |
| Storage Compartments | Yes |
| Accessory Dock | Optional |
| Construction | Hardwoods & Engineered Woods |
| Foam | 1.8 High Density Foam |
| Seat Core | Individual pocketed coils in seating core for the ultimate in seating comfort |
| Springs | Sinuous Springs |
| Assembly | Each Seat Ships Separately & Fully Assembled; Must Attach Seat Backs |
| Warranty | 10 yrs frame & springs, 7 yrs recline mechanism, 5 yrs foam & cushions, 1 yr upholstery & electrical |
| Assembly Time | Approximately 15 to 30 Minutes (No Tools Required) |
| Wall Clearance | 4 to 6 Inches |
Upholstery & Colors
Palliser's rich history is reflected in their large assortment of carefully selected leathers and fabrics. The leathers are categorized in grades 1000 through 6000. Leather 1000 is the most economical selection and offers the best durability, color consistency, and is excellent for every day use. The 6000 series would be the most supple, delicate and would demonstrate the natural characteristics of each hide. With over 100 leather choices, Palliser ensures your furniture is upholstered to your exact tastes and styles.
Free Swatches
Want to see, touch and feel the upholstery in person? We will gladly send you swatches free of charge.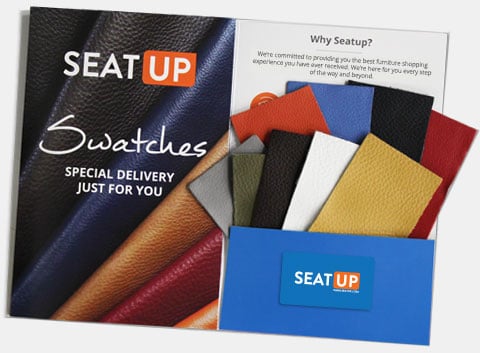 Dimensions & Layouts
All measurements shown are in inches and are Width x Depth x Height. Want a printable version? Click here.
This model is available in an unlimited amount of configurations. Our most popular layouts are shown below, however if you need a design not shown, please give us a call.
Left Hand Recliner
28 x 39 x 40
Right Hand Recliner
28 x 39 x 40
Armless Recliner
24 x 39 x 40
Wedge Console
16 x 30 x 24
Straight Console
13 x 30 x 24
2 Straight
69 x 39 x 40
3 Straight
106 x 39 x 40
4 Straight
143 x 39 x 40
4 Straight w/ Loveseat
130 x 39 x 40
5 Straight
180 x 39 x 40
6 Straight
217 x 39 x 40
2 Curved
72 x 41 x 40
3 Curved
112 x 43 x 40
4 Curved
152 x 45 x 40
4 Curved w/ Loveseat
136 x 43 x 40
5 Curved
192 x 47 x 40
6 Curved
232 x 49 x 40
Accessories
Black Swivel Table
The perfect accessory to enjoy a snack, popcorn, or full course meal in the comfort of your home theater seat. This table fully swivels and is very easy to remove and clean. It securely fits into an accessory mount situated in front of the cup holders. Place it close or near while watching your favorite movies and treat yourself to VIP service!
The table measures 13 1/4 by 9 1/2 inches, has a piano black finish, and is scratch and water resistant. In order to use this table, please ensure to include the accessory mount as part of your purchase.
Silver Swivel Table
As an alternative to the gloss black swivel table, Palliser now offers it in a matte silver finish. Made to resemble metal, this highly durable plastic table is both scratch resistant and easy to clean and maintain. For those looking for a more neutral color, this table will match most home theater decors. Simply slide it into the accessory mount and enjoy a snack while watching your favorite movies.
The table measures 13 1/4 by 9 1/2 inches, fully swivels, and is large enough to hold food, drinks and even a laptop computer. An excellent addition to any home theater seating model.
LED Flex Light
The light features a stainless steel goose neck arm that is extremely flexible and holds its positioning. Simply place it into the accessory mount located in front of the cupholders, turn it on via its touch sensor button located at the base of the light, and it will instantly light up with its low voltage LED lights. Great to locate remote controls, read the TV guide or your favorite book.
The light offers high brightness and low energy consumption, and requires 3 AAA batteries (not included). Note that this LED flex light is for Palliser branded furniture only, and is not to be used on furniture of other brands.
Tablet Holder
The tablet holder is constructed of solid aluminum with a sleek and chic design. It is equipped with a 360 degree angle adjustable hinge for unlimited viewing positions. It moves freely and silently, rotates vertically or horizontally and can be flipped over to the other side, allowing you to share it with others.
With a silicone pad design and six supporting arms with rubber pins adjustable from 146mm to 208mm, it can hold the iPad, Kindle DX, tablets and eBooks. Tested with the highest industrial standard, 85% torque remains after 20,000 times full range operation.
Wine Glass Holder
Enjoy your favorite glass of wine in style. Constructed of aluminum, the handle offers a clean contemporary design that fits most wine glasses securely and safely. The mouth of the handle is finished with a rubber tip to ensure a secure and safe fit. The aluminum post rotates a complete 360 degrees, is extremely stable, and is easy to clean and maintain.
The mouth of the holder was designed at an optimal size to fit both small and large glasses. Your guests will surely be impressed by this beautiful accessory and its sleek modern design.
Wireless Bass Shaker Kit
Palliser's wireless Bass Shaker system creates the sensation of being part of the movie, providing the ultimate in home theater experience. This kit comes with everything you need to feel the action in your seat: a bass shaker, individual amplifier, receiver and transmitter, all fully built into the seat.
Now you can truly feel the sound with this low-frequency audio transducer package. There is no better way to enjoy and experience your movies.
Wireless Battery Pack
Specifically designed for motion furniture, this lithium-ion battery power supply enables you to operate your power recline theater seats without the need to plug them into a wall or other outlet. Simply charge the battery supply, then enjoy up to 150 up and down reclining cycles.
Please note that we DO NOT recommend using this battery if the model of your theater seats has LED lighting. These lights will quickly drain the battery and it will not perform adequately or as described.
Customer Reviews
Theater Seating
Seating by Brand
Theater Decor & Accessories