Features a best selling contemporary design with incredible head support, plush padding, and can be fully customized to your desires.
from
$669
$899
26% OFF
SHIPS FREE (8-10 weeks)
Product Description
As part of the My Octane™ Series, the Sonic XS900 is now available to order in an expanded assortment of colors, leathers, and fabrics. Select between top grain leather, bonded leather, leather gel, and microfiber in a host of color choices. We will also send you leather and fabric samples upon request. The Sonic XS900 provides perfect harmony in your media room as a world class home theater seating model. A tufted seat back design adds a clean contemporary flair, while the space saving style allows you to maximize the amount of seats in your room.

The Sonic provides a spacious 23-inch seat pan, along with arms that are slimmed down for an incredible and beautiful silhouette. The XS900 features our LED Lighting System™. This provides low voltage blue ambient LED lighting, illuminating the cup holders and baserail. Simply turn it on and off, all at the simple touch of a button. The XS900 offers our Accessory Dock™ which allows the use of all of our accessories, making it a premium seating choice. The seat back is 44 inches tall and provides a pitch perfect viewing angle to optimize your viewing experience.
Product Downloads
Specifications
| | |
| --- | --- |
| Manufacturer | Octane Seating |
| Upholstery | Top Grain Leather, Bonded Leather, Leather Gel, Microfiber & Fabrics |
| Mechanism | Power Recline, Manual Recline |
| Seat Type | N/A |
| Accessories (Optional) | Tray Tables, Phone Holder, Wine Glass Holder, Popcorn & Snack Bowl, iPad & Tablet Holder, Flex Reading Light, Cigar & Cigarette Holder, Removable Arms, Head & Neck Pillow, Lumbar Pillow |
| Features | LED Lights, Accessory Dock, USB Charging Port, Memory Foam, Lumbar Support |
| Color | Black, Brown, Red, White, Blue, Grey, All Other Colors |
| Seats Per Row | Unlimited |
| Market | Residential, Commercial |
| Available Layouts | Straight and Curved Available |
| Footrest | Chaise Style Footrest |
| Cup Holders | Blue LED Lighted Cupholders (Power Model Only), Metal Cupholders |
| Storage Compartments | No |
| LED Lighted Baserail | Blue LED Lighted Baserail (Power Recline Model Only) |
| Accessory Dock | Yes |
| Motorized Headrest | No |
| Construction | Kiln Dried Hardwoods, Metal |
| Foam | 1.8 High Density Foam Core with a Top Layer of Cooling Gel Infused Memory Foam |
| Seat Core | Individual pocketed coils in seating core for the ultimate in seating comfort |
| Springs | Sinuous Springs, Pocketed Coils in Seat Core |
| Assembly | Each Seat Ships Separately & Fully Assembled; Must Attach Seat Backs |
| Warranty | 5 years on frame, springs and recline mechanism, 2 years on padding and foam, 1 year on leather and electrical components |
| Assembly Time | Approximately 15 to 30 Minutes (No Tools Required) |
| Wall Clearance | 2 to 4 Inches |
Upholstery & Colors
Customize this model by selecting from over 20 best selling colors in your choice of Octane Seating's premium Grade 9000 top grain leather, bonded leather, leather gel, and microfiber. Their premium grade 9000 leather is handpicked from the top third of all hides, is extremely thick, supple, and luxurious. Their fabrics offer color consistency and durability. Their bonded leather comprises up to 40% leather content, the highest in the industry.
Free Swatches
Want to see, touch and feel the upholstery in person? We will gladly send you swatches free of charge.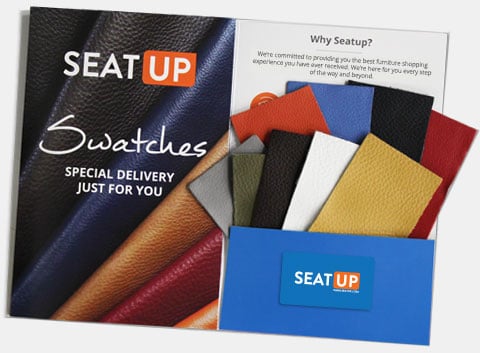 Dimensions & Layouts
All measurements shown are in inches and are Width x Depth x Height. Want a printable version? Click here.
This model is available in an unlimited amount of configurations. Our most popular layouts are shown below, however if you need a design not shown, please give us a call.
2 Arm
33 X 39 X 43
Right Arm
28 X 39 X 43
Left Arm
28 X 39 X 43
Armless
23 X 39 X 43
Left Arm + Right Wedge
39 X 39 X 43
Right Wedge
34 X 39 X 43
2 Straight
61 X 39 X 43
3 Straight
89 X 39 X 43
4 Straight
117 X 39 X 43
4 Straight w/ Loveseat
112 X 39 X 43
5 Straight
145 X 39 X 43
6 Straight
173 X 39 X 43
2 Curved
67 X 41 X 43
3 Curved
101 X 43 X 43
4 Curved
135 X 45 X 43
4 Curved w/ Loveseat
124 X 43 X 43
5 Curved
169 X 47 X 43
6 Curved
203 X 49 X 43
Accessories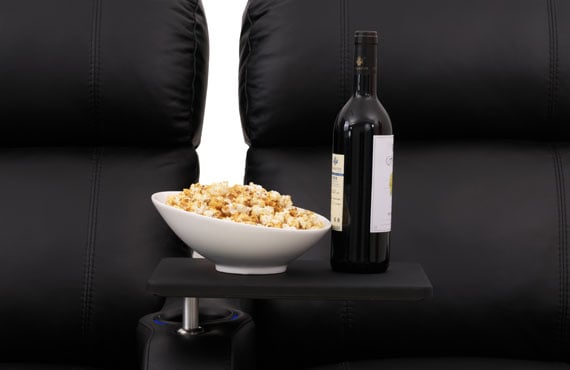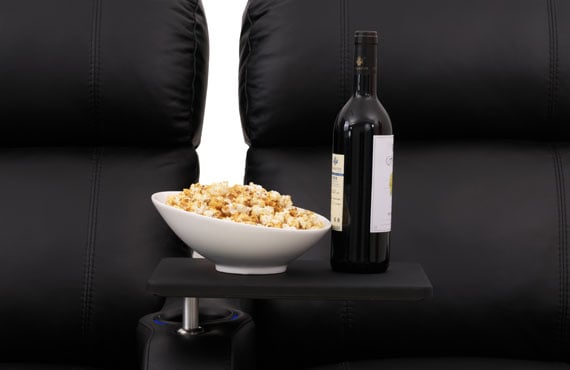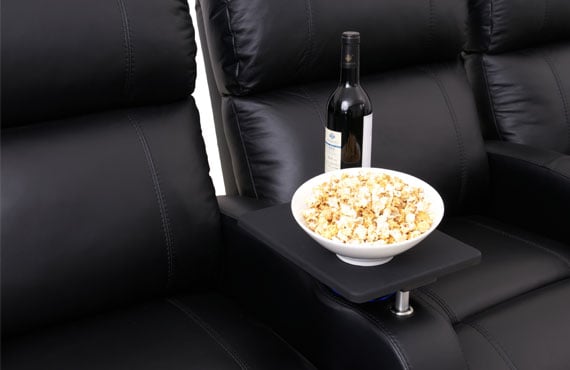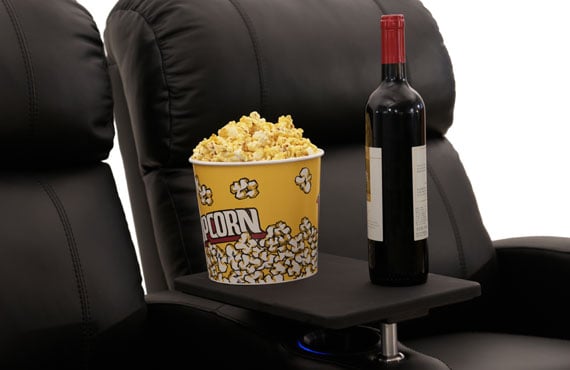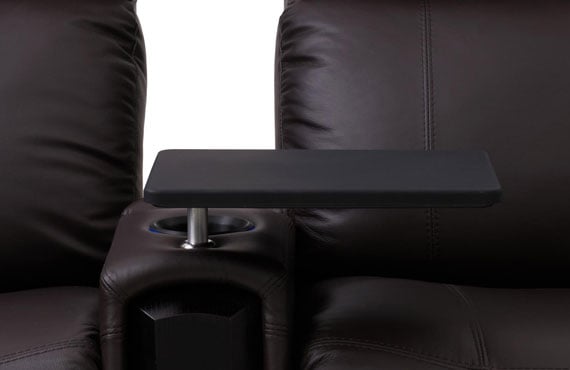 Black Swivel Table
Designed with a matte black surface and constructed with a solid 100% aluminum post, this table allows you to enjoy a true cinematic experience in the comfort of your own home. It is large enough to hold small or large items, from a bowl of popcorn to a full course meal. The table swivels 360 degrees, enabling you to swivel it closer or further away from you while watching movies.
Featuring our exclusive "grip technology" that minimizes items from sliding. It is scratch and fingerprint resistant, designed for long lasting every day use. The table is removable and easy to clean with a damp cloth. The post is made of premium aluminum, exemplifying Octane's quality and craftsmanship.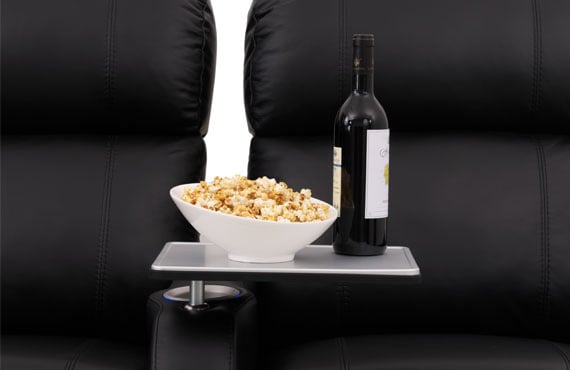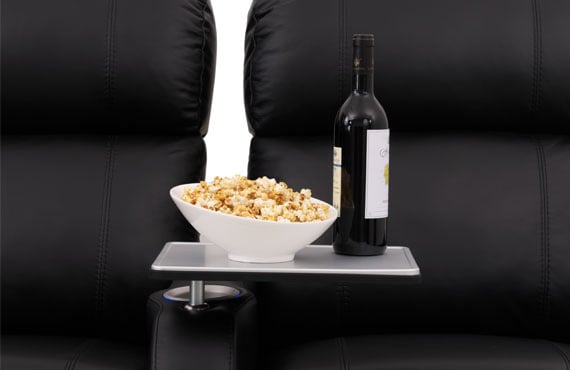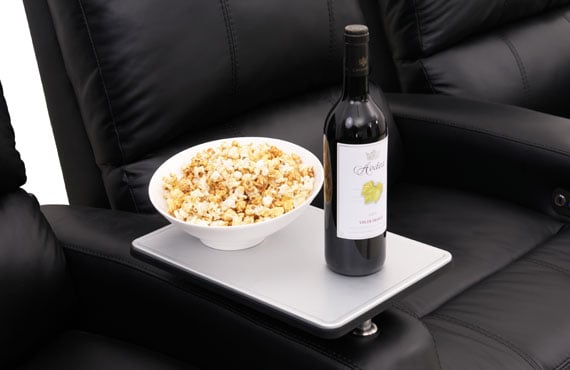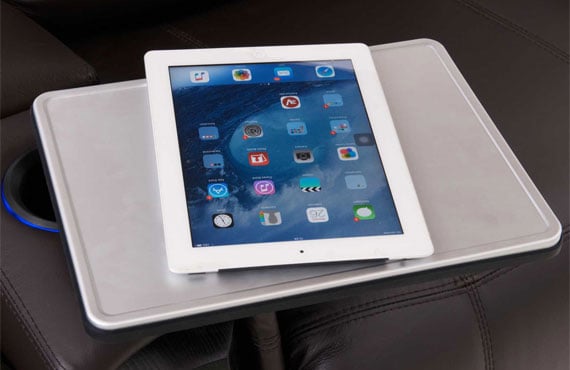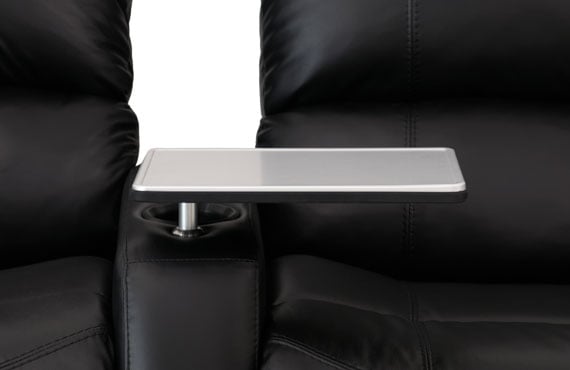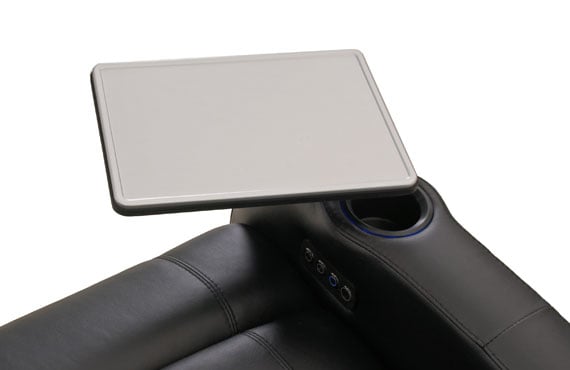 Aluminum Swivel Table
Sophistication and style are magically combined with this premium swivel table featuring a 100% brushed aluminum top. Measuring 9.75 x 13.75 inches, it is large enough to hold snacks to a full course meal. The aluminum is scratch resistant, and easy to clean. Your home theater seats will be the envy of all.
The table is equipped with an aluminum post that simply slides into the accessory dock located in front of the cup holders. It swivels a full 360 degrees and is easily removable when not in use. The table top has a beveled rim to prevent any slipping and will showcase your snacks with flair.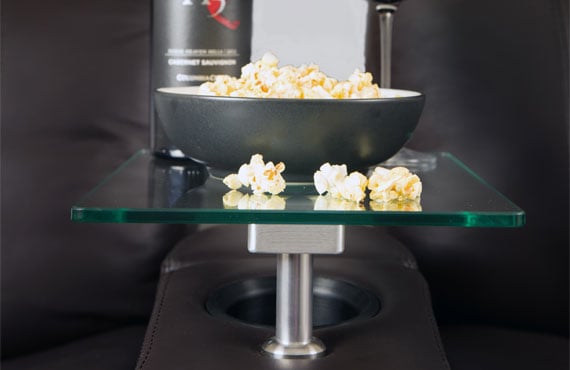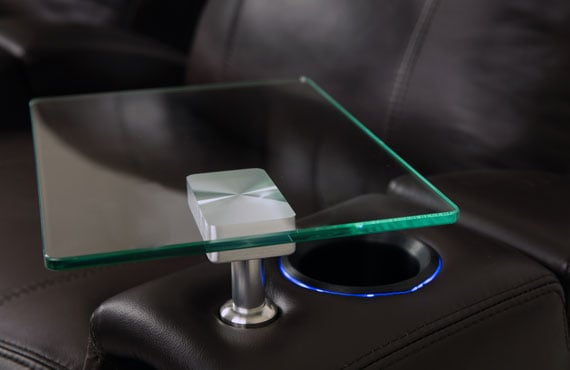 Glass Swivel Table
This luxurious premium glass swivel table is a platinum level addition to any home theater. The tempered glass is 0.375 inches thick and large enough to hold snacks to a full course meal. The table features a smooth beveled edge, accented by a brushed aluminum rectangular base . A perfect pairing of contemporary sophistication.
A beautiful polished finish provides a tasteful way to enjoy your movies in style. The table simply fits into the accessory dock located in front of the cup holders.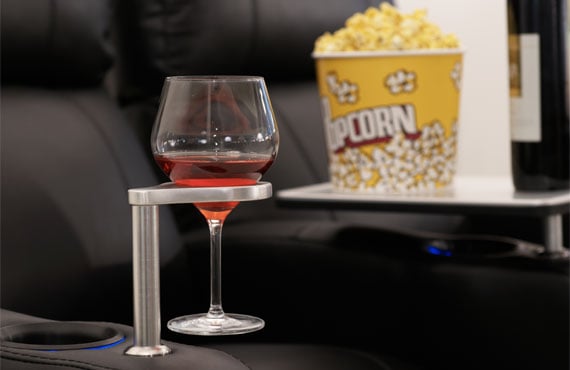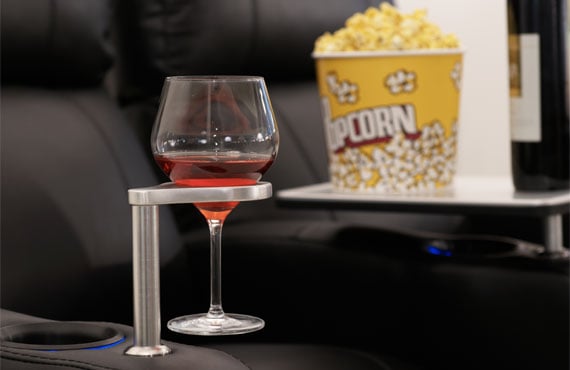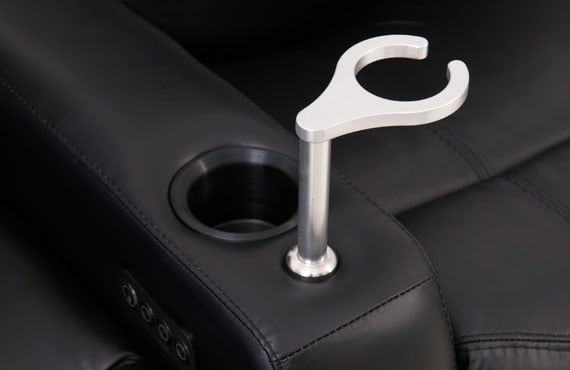 Wine Glass Holder
This wine glass holder will elevate your theater or media room to VIP status. Enjoy your favorite Cabernet, Pinot Noir, Pinot Grigio, or Chardonnay while viewing your movies. Constructed of solid 100% aluminum with a smooth and elegant finish. The handle offers a gentle curved design that fits most wine glasses securely and safely.
The mouth of the holder was designed at an optimal size to fit both small and large glasses, even those used by a sommelier pouring into a full sized Cabernet glass. Your guests will surely be impressed by this beautiful accessory and its sleek modern design. Cheers!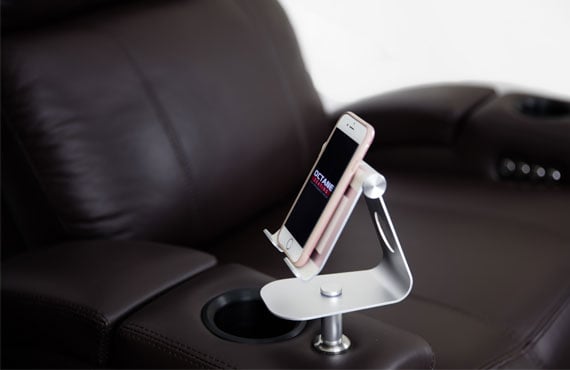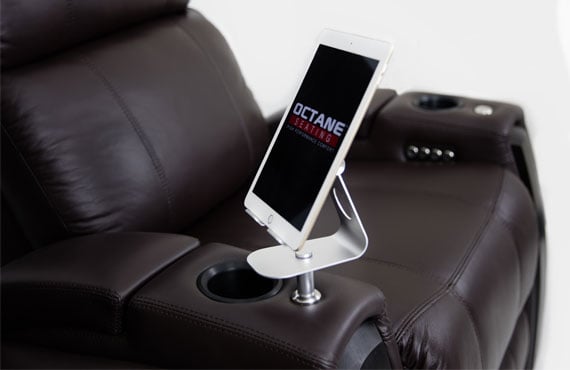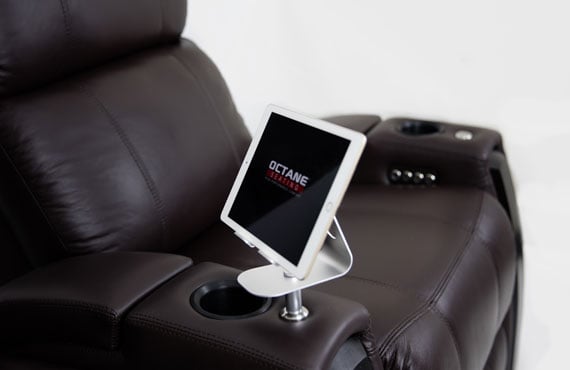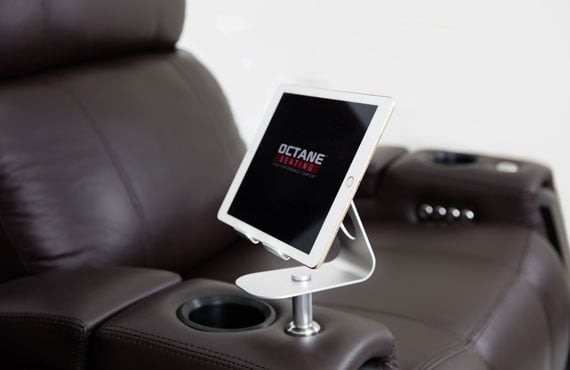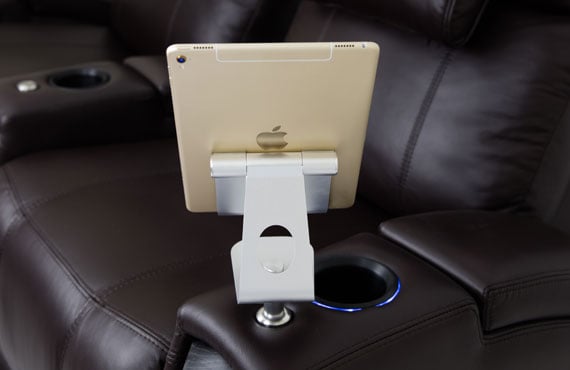 Phone & Tablet Holder
Designed specifically for cell phones and tablets, it is constructed of solid aluminum with a sleek and chic design. It's equipped with a 360 degree angle adjustable hinge for unlimited viewing positions. The holder moves freely and silently, rotates vertically or horizontally and can be flipped over to the other side, allowing you to share it with others.
This holder will safeguard your items from scratches and scuffs. It rotates a full 360 degrees and easily slides into the Accessory Dock located in front of the cup holders. Tested with the highest industrial standard, 85% torque remains after 20,000 times full range operation.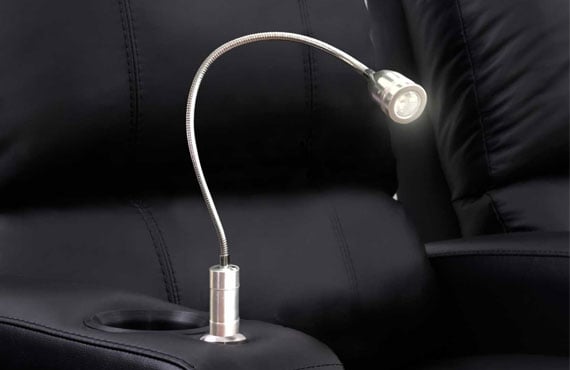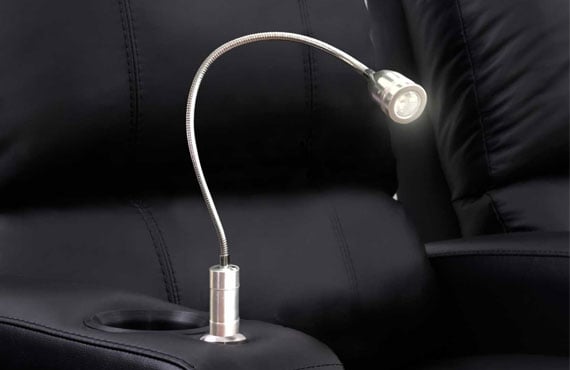 LED Flex Light
This LED Flex Light allows you to locate and view your remote controls with ease. Additionally, sit back and relax reading your favorite book or novel, all in the comfort of the best seat in the house. The light uses a stainless steel flexible goose neck arm that holds its positioning. Simply turn it on via its touch sensor button located at the base of the light, and it will instantly light up with its low voltage LED lights.
The light was specifically designed to illuminate directly at its destination without it disrupting your screen or television. The light offers high brightness and low energy consumption. Requires 3 AAA batteries (not included).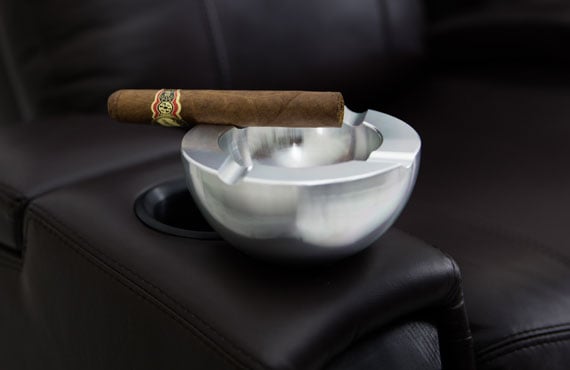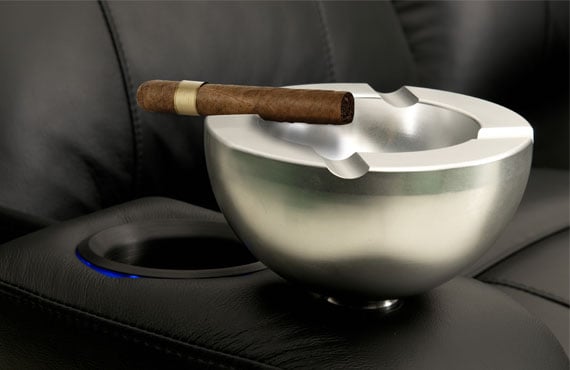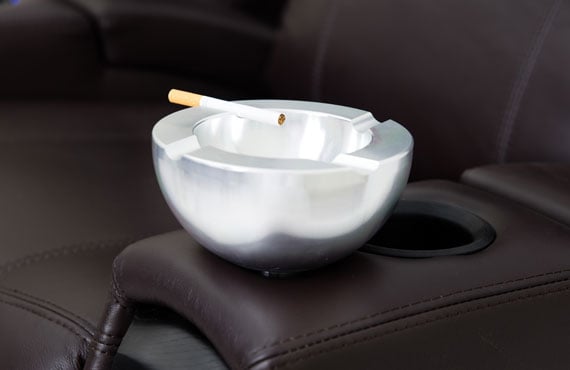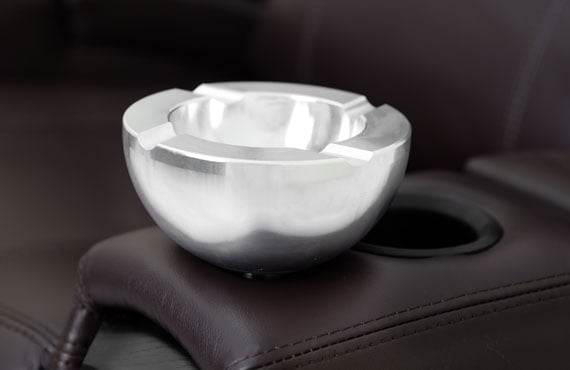 Cigar & Cigarette Holder
Enjoy your favorite cigar while sitting in the best seat in the house. This premium basin is made of solid 100% aluminum with a brushed billet finish, weighing just under 4 pounds. The top is adorned with 4 separate positions to hold all sizes of cigars and cigarettes.
The holder simply fits into the accessory dock situated in front of the cup holders. On the bottom of the holder is a post that securely slides in the dock. Once in position it can swivel a full 360 degrees and rests in its position for a snug fit. Easily removable to clean and maintain.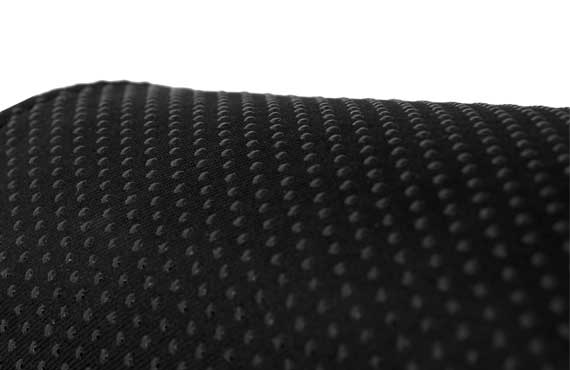 Head & Neck Pillow
This pillow is the perfect accessory for those who need added articulation or support while reclining. The pillow is filled with high density, premium blown fiber that provides the right amount of support along with incredible comfort. An ergonomic shape was designed for muscle relief and can be used for either the head or neck. Offered in both black top grain leather and bonded leather to match your Octane seats.
Once placed in position, the strap will ensure it stays in place with its "slip free" backing material. The strap also features a weighted end so that it balances the pillow to keep its positioning. Some people also use the pillow as an additional arm rest if desired.
Removable Arm
The perfect accessory for those who purchase theater seats with a middle loveseat or sofa layout. Its slim profile supports your arms with its plush padding, yet it doesn't take up much room so you still have ample space to sit in complete comfort. The removable arm simply slides in between two seat cushions, fitting snugly into position. The bottom of the arm has a fin like wood aperture that holds the arm in place.
A full sized black aluminum cup holder is housed in the front of the arm and hold most cans and drinks. This removable arm can literally be used on any piece of furniture between two seats, turning any sofa into a media oasis.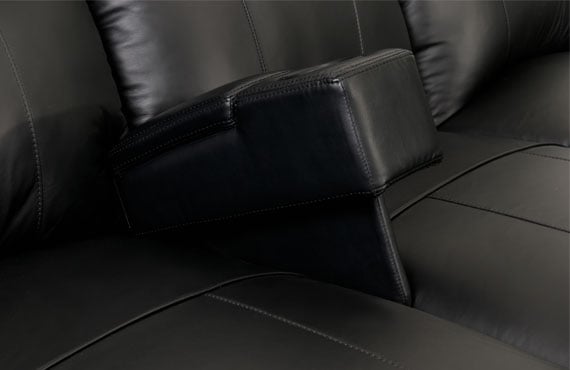 Removable Storage Arm
We upgraded our standard removable arm by adding a handy storage compartment. Both are the perfect accessory for those who purchase theater seats with a loveseat or sofa configuration. Made of premium materials with plush padding, this arm will stay firmly in place and provide the necessary support and comfort you desire.
The storage compartment is easily accessible, and holds remote controls and other small items. Simply slide the arm in between two seat cushions, and it will fit snugly into position. Its weight and quality construction ensures a steady and sturdy arm rest every time.
Wireless Battery Pack
Specifically designed for motion furniture, this lithium-ion battery power supply enables you to operate your power recline theater seats without the need to plug them into a wall or other outlet. Simply charge the battery supply, then enjoy up to 150 up and down reclining cycles.
Please note that we DO NOT recommend using this battery if the model of your theater seats has LED lighting. These lights will quickly drain the battery and it will not perform adequately or as described.
Customer Reviews
Theater Seating
Seating by Brand
Theater Decor & Accessories